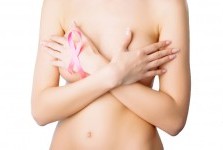 Breast reconstruction is divided into immediate and delayed reconstruction. Immediate procedures are done on the same day as the mastectomy and delayed are performed at some time after the mastectomy. It is further divided into implant based or "autologous" reconstruction, meaning utilizing a woman's own tissues only.
In immediate reconstruction cases, we work with some of the finest oncologic surgeons in NYC who perform the mastectomy. A unilateral mastectomy is done for a single sided tumor in a woman who prefers to maintain her normal opposite breast. In those cases, modifications of the opposite breast through a breast lift, reduction or augmentation may be considered to optimize symmetry. Currently a great number of women are undergoing prophylactic mastectomies bilaterally when they are positive for breast cancer associated genes. In these cases, mirror image reconstructive procedures are utilized on each side.
The news that one needs a mastectomy is obviously extremely stressful to a woman and her family. Reconstructive surgery is designed to soften the blow and allow women to put that episode in their lives behind them. Dr. Sultan and his staff are extremely empathetic in this type of situation. They will coordinate efforts with the Breast Surgeon and, when needed, with the Oncologist. Our goal and our mantra in each and every case is "Cured and Beautiful". Our Breast Surgeons will perform "nipple sparing" mastectomies in appropriate cases. This has significantly improved the results of reconstructive breast surgery. We specialize in implant based reconstruction which is performed in one stage (called "direct to implant reconstruction") or in two stages, utilizing temporary implants called tissue expanders with conversion to breast implants at stage two. In most patients optimal results also require the transfer of expendable fat from the woman's body to the chest and "dermal grafts" which are sheets of sterile material, obtained from special laboratories, both of which can add to a prettier and more natural result. If the nipple areola complexes were removed at the time of the mastectomies, their reconstruction can be performed under local anesthesia in our office at a later date.
We have a great deal of experience with patients who have previously undergone radiation therapy to the breast prior to or following the mastectomy. Highly successful results can still be achieved, by modifying standard techniques as needed.
View Our Breast Reconstruction Gallery