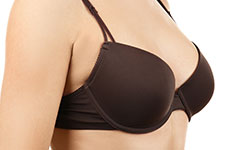 The breasts form in utero from two separate clusters of cells called the "breast buds". They form independently and so it is not uncommon for young women to have significantly asymmetric breasts. Correction of these problems often require a combination of breast lift, reduction or augmentation. One common scenario is for a young woman to have two breasts of significantly different size. In that case we first focus upon the smaller breast and ask the patient her preferences for this breast, namely whether she prefers to maintain its size with or without a breast lift, increase its size with an implant (typically a saline implant in these young patients) or possibly reduce its size further. This then leads to the management decision for the opposite, larger breast.
In other young women the breasts are not necessarily asymmetric but rather misshapened. One example would be matronly or "droopy" breasts. In this case a breast lift would likely be highly beneficial.
These cases are also done under a light general anesthetic called an LMA. They are typically approximately two hour procedures and require about one week recovery.
One specific type of congenital anomaly is called a tuberous or constricted breast. These are particularly challenging procedures but even in these situations excellent results can be achieved.
View Our Congenital Asymmetry of Breast Gallery