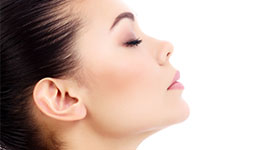 A weak or recessed chin can be unsightly. Its correction through placement of an implant or fat can improve a person's entire facial profile while having a minimal effect on their frontal facial appearance. The corrective surgery can be done in one of several ways. The most common and the method we utilize most often is by placement of a small chin implant which is typically composed of solid silicone. These are completely safe and do not degenerate in the body. It can be placed through an incision in the mouth. However, we prefer to use a small incision below the chin because there is a much lower risk of infection or nerve injury. Recently, for moderate cases of recessed chin we have also utilized fat injections which involves the harvesting of a patient's own fat as a sterile "paste" and reinjecting it into the skin overlying the chin. Unlike a chin implant which is permanent the fat will not last indefinatly, but we believe it will last five to ten years or more.
When a patient requests improvement of a weak or recessed chin alone, a chin implant along with supplementary liposuction of the neck will often be recommended to provide the jawline with the best "definition" and appearance. A chin implant or fat injections are also often used as a supplemental procedure in patients undergoing rhinoplasties also because it can further improve his or her profile and facial harmony. Similarly, substantial number of patients undergoing a facelift or neck lift are advised to consider chin augmentation in order to maximize the improvement of the contour of the jawline and neck.
The isolated chin augmentation procedure requires little preparation except for avoidance of medications such as Aspirin, Advil and Motrin for several weeks prior to surgery. Several days prior, Bromelain and Arnica are also begun to control bruising and swelling. The operation is performed under sedation or a light general anesthesia and is completed in under an hour. A Velcro chin strap may be placed at the conclusion of surgery and would be worn for one week. Patients may remove their strap and dressing two or three days after surgery to shower. Sutures are removed at the first post-operative visit, typically five days after surgery. Swelling subsides in two to three weeks but work and exercise may resume at one week.
This is a small procedure with a quick recovery that can provide a subtle but substantial improvement in appearance.
The objective in a man is to establish a stronger, more handsome jawline and in a woman a prettier and more defined look. In both, the correction significantly improves the profile and the facial balance.